Ryobi is a Japanese company dealing mainly in machinery and one of our top pressure washer brands. Most consumers will encounter them as Ryobi Tools, selling a wide range of power tools and lawn and garden equipment, exclusively sold through Home Depot. They make pretty much everything from drills, sanders, snow blowers, and of course, pressure washers.
They currently offer thirteen different models of pressure washer, both gas and electric. Today we're going to be looking at a selection of the best Ryobi pressure washers, and find out how they perform.
A Few Preliminary Questions
What is the best pressure washer to buy for home use?
That depends on what you want to do. Electric pressure washers are lower-powered, but don't need as much maintenance or need any gasoline to run. Gas pressure washers are fussier, especially since they need gas and oil, but even the lowest-powered gas pressure washer is still a mile more powerful than an electric one. If you only need to clean your house and your car, then an electric will do you fine. However, a gas washer will do the same job much quicker.
Basically, the question here is a matter of how much effort and money you're willing to spend. If you just want another cleaning implement, get an electric. If you really want to try out what a pressure washer can really do and you're up for making a bigger commitment with your wallet and time, then a gas washer is for you.
What's the best PSI for a pressure washer?
Again, that depends on what you want to do. For residential use, anywhere between 1500 to 2000 PSI will be quite good for most jobs around the house. Too much pressure may even be a hazard when you're cleaning wood or vehicles; fortunately, that's where detergents come in. If you're looking to go commercial, then higher is better, though other features beyond just pressure are also important.
What brand is the best pressure washer?
You guessed it – that depends on what you want to do. If all you want is a washer for cleaning around the home, then Ryobi will suit you just fine. If you're particularly concerned about your environmental impact, Sun Joe or Greenworks are the brands for you. If you're planning to go pro with your pressure washer and start cleaning for a living, then Simpson is your best bet, especially their commercial line. Here's a basic overview of the best pressure washer brands, so you can get situated and consider which will work best for you.
At the time of writing, Ryobi has thirteen pressure washers both gas and electric, including one commercial-grade gas washer that we haven't covered here. Their lineup skews toward residential use.
Does Ryobi make good pressure washers?
If you're a homeowner in need of a cleaning implement, or if you're a newcomer to pressure washers. Electric washers are very forgiving of beginners, while their gas washers come with printed instructions on the unit itself, so you're never at a loss about what to do. Further, their build quality is excellent; their Honda engine power washers are especially reliable, most often starting on the first pull.
Also, a great upside for both homeowners and newcomers is that Ryobi exclusively sells through Home Depot, which makes it easy to find all their products: pressure washers, accessories, replacement parts. As long as you have a Home Depot in reach, Ryobi is never too far away from you.
Product Reviews
Here we have our selection of pressure washers for evaluation. For convenience, we'll refer to each pressure washer by its Ryobi model number.
Electric Pressure Washers
Light, not in need of significant maintenance, no gas to pollute the environment – electric washers are a pretty good deal, especially for residential use. True, they don't have as much power as gas washers, but too much power can be a liability if you're washing a car or delicate siding. We're looking at five the best Ryobi electric pressure washers.
A Tiny Plastic Box: Ryobi 141612
1,600 PSI 1.2 GPM Electric Pressure Washer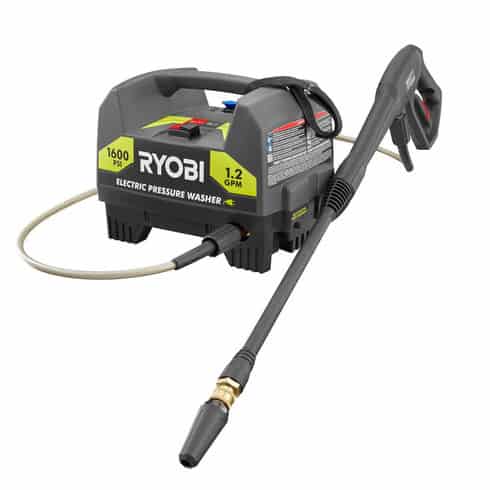 Tap image to see price
Our first electric pressure washer is even lighter than usual, clocking in at just 16.75 pounds. Unlike most other electric pressure washers, the 612 isn't an upright wheeled design; it's a box that you carry around. Beyond that, it's still the same sort of pressure washer you're all familiar with: plug in both the power cord and garden hose, then let rip with the wand.
The 612's pump, powered by a 13-amp electric motor, throws water at 1600 PSI with a flow rate of 1.2 GPM. As pressure washers go, that puts it in light-duty territory: for home and vehicle use. Out of the box, it comes with three nozzles: 15-degree, soap, and turbo. You'll be using the 15-degree for most applications, and the turbo for the stubborn stuff.
So, what does the 612 have going for it? That much pressure and flow rate pretty much mean it's for residential use. As it isn't too powerful, it'll be fine on siding and vehicles, though it doesn't quite have enough pressure to wash your second story or your roof. Its small size and light weight do make it handy: you won't be trundling it around, and as long as your garden hose and the power cord can reach, you're in business. A longer high pressure hose may be in order if you've got a lot of ground to cover, but the included 20-foot should serve most purposes.
It works quite well as a vehicle washer. Its lack of wheels won't be a hindrance there, your garage will most likely have an outlet that can support the cord, the 20-foot hose won't be overstretched, and the low power won't deal any damage to your car. Couple it with Ryobi's foam blaster accessory, and you've got an easy way to clean your car and house.
Pros
Nice and light
Compact, can fit anywhere
Good for vehicle use
Cons
Low-powered
Can be a pain on the arms if you're carrying it around
Rolling In A Cart: Ryobi 14122
1,700 PSI 1.2 GPM ​​Electric Pressure Washer
Tap image to see price
Unlike the box of the 141612, the 14122 is carried around in a cart. This means it's heavier and a lot bulkier, but it does save your arms while moving around.
Its pump, powered by a 13-amp electric motor, still outputs 1.2 GPM of water, but at a higher pressure of 1700 PSI. The high-pressure hose is five feet longer than the 612, and hangs off a velcro strap from the cart handle when not in use. The same three nozzles, 15-degree, soap, and turbo, are stored in niches on an integrated soap tank, which makes cleaning much easier.
Performance-wise, it's not really got much on the 612. It's still a residential machine, good for most cleaning tasks around the house, and not so powerful that it'll damage delicate materials. The high-pressure hose is five feet longer than the 612's, which gives it a little advantage. And the cart saves your arms from having to haul the thing around.
Overall, the 122 will serve you fine cleaning your house and your car, especially with a bit of detergent to give that low power some extra punch.
Pros
Cart makes it easy to push around
Soap tank for easy detergent use
Good for vehicle use
Cons
Still low-powered
More difficult to store given the cart
A Tiny Plastic Box In A Cage: Ryobi 141812
1,800 PSI 1.2 GPM Electric P​​ressure Washer
Tap image to see price
The 141812 returns to the box format, but adds a little something by encasing the box in a roll cage. It's still nice and light, so if you don't mind carrying it around, this 18-pound washer will serve your residential needs just fine.
There's a good deal of similarities and differences between the 812 and the 612, the roll cage being only the most visible. The 812 is a bit more powerful, as it operates at 1800 PSI, though flow volume is still the same 1.2 GPM, and the motor is still the same 13-amp electric. It carries the same set of three nozzles: 15-degree, soap, and turbo. It's a few inches larger in all dimensions than the 612, but it's still nice and compact, and it's only got an extra pound on the other washer.
The 812 also includes a detergent tank instead of the 612's soap siphon. This and the extra pressure will help cleaning jobs go faster than its lower-powered label mates, especially now that you don't have to carry a soap jug with you.
Performance-wise, it's still in the same general category as the last two: home use, vehicle use with care. The extra pressure should make some jobs quicker, but not really enough to make a difference; perhaps a few minutes saved. The 812's main advantage over the previous two models is its low weight and small size, in addition to the power. It'll render the same sterling service the other two do around the house. It's even cheaper than the 122.
Pros
Light and small
Good power for its size
Onboard soap tank
Excellent price point
Cons
A pain to carry for extended periods
Reeling With Carts: Ryobi 141900
2,000 PSI 1.2 GPM Electric Pr​​essure Washer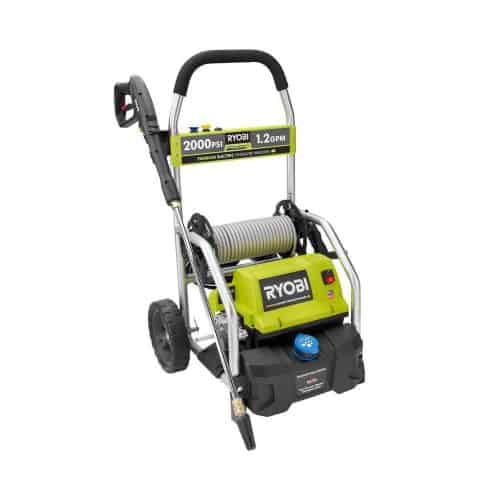 Tap image to see price
The 141900 puts us back into classic pressure washing territory with a cart. If the 812 is the upgraded version of the 612, then the 900 is the upgraded version of the 122.
The same handcart design supports a 13-amp electric motor, powering a pump of 2000 PSI and 1.2 GPM. Delivery system is the same as the previous models: a 25-foot high-pressure hose and three nozzles, 15-degree, soap, and turbo. The soap tank, however, has changed position from the back to the front, so you'll have to get down a bit lower to fill it up.
What the 900 has that the others don't is a hose reel. It's a manual one, but it does save space; no more length of hose just randomly hanging out of somewhere. Of course, this is only to store the hose when not in use, as it must be fully unrolled before letting water through it.
2000 PSI takes us out of light-duty and into medium-duty territory. The low flow rate doesn't do the 900 any favors, as it means there's not enough water to wash out what it very effectively takes off. Beyond that downside, the 900 makes for an effective residential cleaning machine, though caution is warranted around fragile materials.
Pros
Good power lets it handle pretty much any job
Hose reel for easy after-job hose storage
Good price for the power
Cons
Low flow rate
Not good with long-term, deep-set stains
Electric Big Daddy: Ryobi 142300
2,300 PSI 1.2 GPM High Performan​​ce Electric Pressure Washer
Tap image to see price
You'd be forgiven if you thought the 142300 was a gas pressure washer, as the silhouette is very reminiscent of Ryobi's actual gas washers. It's the power option of Ryobi's electric line, and if you want any more pressure with a Ryobi washer, you'll have to go gas.
That power is just as the model number states: 2300 PSI and 1.2 GPM. That provides a good bit of force to knock out stains and dirt, though the volume does leave something to be desired. Everything else connecting to the pump is the same as the previous models: 25-foot high-pressure hose, triple set of 15-degree, soap, and turbo nozzles, and a soap tank.
The electric motor is a brush-less one. This means it's more efficient, it takes up less space, and it lasts longer than a more typical brushed electric motor. Couple that with the axial pump, a type you usually see on gas washers, and this adds up to a pretty good lifespan for the 2300, definitely longer than average for most other electric models.
The 2300's main problem is the anemic GPM. It can quite easily strip the stains off whatever surface you point the wand at, but you'll be washing it for a bit longer than usual with the low flow rate. Further, 2300 PSI is enough for most purposes to consider using other nozzles, but Ryobi ships them with the same set of nozzles as its other electric ones. This is more of an inconvenience than a disadvantage, but it's still a bit of extra effort at Home Depot that they could have saved. And of course, you pay for quality; it's almost half again as expensive as the 900.
If you can work with the low GPM and premium price, though, you've got an electric washer with an excellent lifespan and power that can take on any cleaning job around the house.
Pros
Best power of Ryobi's electric washers
Good service life
Just about the last word in residential electric washers
Cons
Flow rate is lacking
Lack of nozzle options out of the box
Price-tag matches quality
Gas Pressure Washers
Ah, gas washers. Electric washers are more convenient around the house, they don't need as much maintenance, they don't need fuel. But when you need power, the only real answer is gas. We'll cover two of the best Ryobi gas pressure washers.
Baseline Gas Performance: Ryobi 803001
3000 PSI 2.3-GPM ​​Honda Gas Pressure Washer
Tap image to see price
The 803001 is the classic gas washer. For newcomers, the 803001 or something like it is the baseline of gas pressure washers, setting all expectations that other gas washers must meet or exceed.
At its heart is a Honda GCV160 engine, which powers a pump that sends water out at 3000 PSI and a flow rate of 2.3 GPM. This will suffice for most residential applications, especially with the right accessories to help out. It's got only one nozzle out of the box, but it's a 5-in-1 quick-change nozzle; we cover that below. Its high-pressure hose is 35 feet long, ten feet longer compared to the electric ones, and it also comes with a soap tank.
Its main downside is in a lack of extras. There's no low-oil warning or auto-shutdown system. The included nozzle is nice, though we would prefer a 15-degree nozzle to a 0-degree one, as it's too easy to damage things with a 0-degree nozzle.
All that aside, baseline gas performance is still excellent if you've got a lot of ground to cover and don't mind putting in the care and maintenance a gas washer needs.
Pros
Baseline gas washer power; clean more in less time
Reliable engine
Handy nozzle, no more fumbling to switch
Cons
No frills, pretty bare-bones
0-degree nozzle on the 5-in-1 can deal damage if improperly used
Honda And Cruise Control: Ryobi 80940B
3,100 PSI 2.5 GPM Honda Gas Pressure ​​Washer with Idle Down
Tap image to see price
If the 803001 was the classic gas washer, the 80940B departs from the template to establish itself.
By numbers alone, it doesn't much differ from the 803001. The engine is a bit more powerful, being a Honda GCV190. Pressure rating is 3100 PSI, flow rate is 2.5 GPM. Again, quite good for most residential applications, and a few attachments will help make life much easier for you.
Out of the box, it comes with the same 5-in-1 nozzle as the 803001, though it has a 25-foot high-pressure hose instead of the 803001's 35-foot. And of course, there's the expected soap tank for anything that isn't impressed by water.
Our complaint with the previous model, the lack of frills, is remedied here. The headline feature is the idle down, which sets the engine to idle if it isn't actively pumping, thus saving on both fuel and noise. As the GCV190 is just about Honda's best engine in its size class, we don't want anything bad happening to it.
Performance-wise, there's no job that the 80940B can't handle, and at a much faster pace than its electric label-mates. Whether it's your concrete driveway, the old patio that hasn't seen a wash in years, or your car, it'll handle them all and not even break a sweat.
Pros
Best power among Ryobi's residential gas washers
Idle down saves fuel and lowers noise
Best engine in its class
Cons
Same nozzle and nozzle problems as the 803001
Things To Consider Before Buying A Pressure Washer
Before you make your selection off the list above, or the rest of the Ryobi catalog, here's a few questions that will help guide you in choosing which pressure washer to get.
What Will I Use It For?
Basically, what do you need to get clean? The more delicate the materials you're dealing with, the better it is to stay low-powered and rely more on detergent. If you've got mainly vinyl siding, a wood deck, and a car, you can get by with most of the electric washers above. If concrete driveways and grease stains are more in your wheelhouse, better to up the power a bit.
How Often Will I Use It?
This is important because it's another area where gas washers shine over electric ones. Most electric washers available to consumers aren't commercial-grade, and have an expected lifetime of around 250 to 400 working hours. This is not bad if you're only going to bring it out for an hour every weekend; that's just above 50 working hours a year. But if you need a more intensive pace of cleaning, then a sturdier model is needed.
Compared to the expected lifetime of an electric washer, a gas washer can see anywhere between 300 to 3000 working hours, depending on build quality and the types of parts on it. Generally the high-ticket washers also get the long lifespans, but then those are high-power models bought by professional cleaning services who use them practically every day.
If you won't be using it all that much, an electric washer will do you fine. If you're aiming to clean a lot, get a gas washer.
Ryobi's Cleaning Accessories
So, beyond the stuff that comes in the box, what else can you use? Ryobi also offers a line of accessories for their pressure washers, so if the basic wand can't do a particular job that well, you can add to it or switch it out.
Just about everyone will have need of a nozzle. As you've noted previously, their electric washers come with a three-pack of 15-degree, soap, and turbo, while their gas washers come with a 5-in-1 with 0-degree, 25-degree, 40-degree, and two soap openings: a fan spray for short ranges and a jet for long range soaping. All of these attach with a 1/4" quick connect, so if the need arises, you can stick a 5-in-1 nozzle onto the wand of your electric washer. Off their site, they sell a soap blaster, a turbo nozzle, and the 5-in-1 nozzle.
In addition to these, they also have a pivot coupler. This fits in between the wand and the nozzle, and lets you angle the spray, so you can get at the hard-to-reach areas: the underside of a fender, or the edges of a roof. It's a small but handy attachment that can save so much headache.
No matter who you are, you very likely can use a surface cleaner. Ryobi offers three particular ones: a 12-inch model, a 15-inch one for their gas washers, and an 11-inch water broom. A surface cleaner is just the thing for large, flat surfaces like your driveway; you can wash them with your wand, but a surface cleaner will do the job much quicker and with much less splashing. The 12-inch goes with their electric models, while the 15-inch is built for the gas-powered ones. A water broom is more for pushing off dirt and anything loose on the surface, just like the name says. We've got an article covering the best surface cleaners.
Parts and Maintenance
Electric pressure washers are much easier to maintain because there's not really anything to maintain on the unit itself. All they need is a little cleaning around the filters and keeping the plugs dry, plus an eye on the hose and the trigger gun for any damage. Beyond that, there's no need to worry about electric washers. Replacements are available off their official site if you need the hose or the trigger gun.
It's gas washers that need serious thought into parts and maintenance. They'll need fuel and oil to keep running, of course, and they'll also need seasonal care; you can't just leave a gas washer alone over the winter. Our article on the best gas pressure washers also includes a guide on maintenance, so give it a read.
Sticking with Ryobi gives you two major advantages in terms of parts and maintenance.
First is that, as previously stated, their exclusive retailer is Home Depot, so it's easy to source parts from them should the need arise. The second is that Ryobi itself maintains an online portal on their master parts distributor where you can purchase exactly the parts you're missing. Just put in the model number of your pressure washer, and it'll call up an illustrated parts list of your model, and you can order exactly the part you need.
In terms of overall price, replacement parts won't set you back that much. As an example, we'll look at the 803001. The most expensive part available for it is the pump, going for just over a hundred dollars, but if you're looking for a new pump, you've got bigger problems than simple maintenance. Everything else is much cheaper. After the pump, the next-most-expensive parts are the wheels and the unloader valve, at a hair over twelve dollars. All the other important parts are less than ten dollars.
The only parts we didn't cover are the frame assembly and the multitude of labels, none of which are mechanically important. Your pressure washer can run just fine without the wand and hose holders or the foam-padded handle, you're just not going to enjoy it. Should you need to replace the frame, the most expensive part of that is just under twenty-two dollars; the rest of the frame is cheaper than that.
It must be noted, straight out from the manuals: 'There are no user serviceable parts to the pressure washer pump. Any attempt to service or alter the pump may damage the pressure washer and void your product warranty.' Fortunately, that's why your closest Ryobi service center, exists.
Speaking of the warranty, Ryobi offers a 3-year limited warranty against any parts defects or manufacturer error 'if the product is used for personal, family or household use'. This is quite a bit of time for a home use warranty, so take advantage of it.
Common Problems With Ryobi Washers
Obvious right out of the box is a lack of nozzles. We prefer to have a full range of six: 0-degree, 15-degree, 25-degree, 40-degree, soap, and turbo. Whatever type you purchase, you're always missing a few angles, so either buy a 5-in-1 nozzle (if you got an electric) or stop by the accessories section of Home Depot for the missing ones. As the old saying goes, better to have it and not need it than to need it and not have it. The two gas washers suffer from an additional weakness in this regard, though; there's no nozzle storage on the washer itself. Not strictly a problem, but an annoying inconvenience nonetheless.
A problem with the electric ones specifically is their relative lack of GPM. This isn't really bad on the lower-pressure ones, but it does hit the 2000 PSI and 2300 PSI models hard, as they have a flow rate more suited for something smaller. They'll be quite capable of stripping dirt and stains off whatever surface you point them at, but you'll have to keep the wand pointed longer at it to wash the stripped stains away.
Customer reviews also observe that the hose tends to be stiff whilst in use, needing a bit of room to unroll. Not much of a problem when dealing with a large area, but a concern when washing a car or something smaller.
Conclusion
Ryobi pressure washers may lean to the residential end of things, but they haven't slacked in quality. Whether gas or electric, you can find something that'll keep your house clean and beautiful. And they're easy to find, as long as you've got a Home Depot nearby.