When freshly installed, porcelain tiles have a really smooth surface and a glossy appearance. But as time passes, the design might have an impact. This may give off a somewhat dull appearance.
How to make matte porcelain tile shiny?
You can simply use a gloss fluid on your tiles. But you have to clean the area to make it ready for glossing first. Once done, you can gradually apply thin coats of gloss. When the coating dries, your floor should have the desired shiny effect. But this is a thorough process that should be done with care.
Already understood what you have to do? We don't think so. To do this properly, go through the step-by-step guide below.
Let's get started and make your floor shiny as ever!
How To Make Your Matte Porcelain Tiles Shiny
Who doesn't want shiny matte porcelain tiles?
To be honest, everyone does. But you have to make an effort to reach the perfect shiny tiles. Don't worry! It won't take much time as well. The duration is much less than the grout drying time before sealing.
Want to do the job now? Let's check out the needed equipment then:
Clean bucket
Rubber gloves
White vinegar
Mops
Vacuum or broom
Foam brush or wax applicator
Once you have the tools, you can start the work!
Step 1: Detect If the Tile Is Glazed or Not
You need to consider if you can actually apply the gloss fluid or not. On top of certain porcelain tiles has a glass covering. If you wanted to add gloss, this may prohibit you from doing so.
Unglazed tiles, however, allow you to add the shine you want. Examine the porcelain tile to detect if it's glazed or not.
Step 2: Clear The Area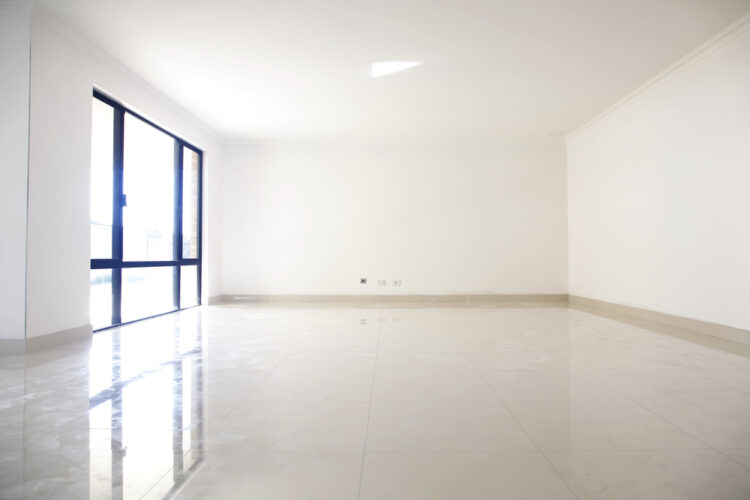 Move all furniture off the floor to work. Next, the porcelain tile floor should be carefully vacuumed or swept. This will help remove any residual dust and debris.
Step 3: Ensure Safety
Wear gloves made of chemical-resistant materials. Use the same gloves used for removing grout haze.
You also have to make sure none of the chemical solutions goes into your eyes. That's why you should wear safety glasses.
You should also avoid inhaling fumes while dealing with chemicals. To do so, always keep the space adequately ventilated. Keep doors and windows while working and also after you're done.
Step 4: Clean Everything Before Applying Gloss
Before glossing, wipe off the porcelain tiles. For that, fill a bucket with 2 gallons of warm water and ¼ cups of white vinegar.
Dip a mop into the cleaning mixture. Clean any scum or stains from the unglazed porcelain tile. This way you can clean your shower tiles without scrubbing them.
If you think you have to scrub the tiles, use a scrub brush or an abrasive pad. Dip the cleaning pad or brush into a porcelain tile cleaning solution before scrubbing.
Allow the tile to dry after rinsing. Repeat as needed to remove stubborn stains. Once the dirt is gone, move on to the next step.
Step 5: Follow Manufacturer's Instruction
Before applying the gloss finish, thoroughly read the manufacturer's instructions. Work according to what specific circumstances require, such as ideal room temperature. You will get the best results if you follow the instructions.
Step 6: Apply Gloss Fluid
It's time to start applying the gloss fluid. Just pour a little amount of the gloss fluid into a bucket.
Take a brush with strong bristles. Polish over the tiles with it. You can also do the job by using a foam rubber brush, wax applicator, or mop.
Use a light coat of gloss for this. Ensure the coat or application is clear rather than white as you go. Make sure to wipe away any puddles that try to form on the porcelain flooring.
Don't have gloss fluid? Here are some options for you:
Grab one and above are the instructions.
Step 7: Let the Gloss Fluid Dry
Congratulations on finishing applying the fluid. But don't be happy so soon!
You have to let the tiles dry off. You can set up a fan to blow over the floor to help with drying. It'll take at least 30 minutes for the flooring to cure fully.
Step 8: Use Another Coating
After the floor has dried up enough, apply a second layer of gloss. Make sure the coat is even. Otherwise, it won't look good at all.
Step 9: Allow the Coat to Dry
Leave the second coat to dry properly. Examine the amount of shine on the floor now.
If you need more, continue the process with the third application for a greater gloss. But make sure to give each coat enough to dry before applying another coat. You may also follow this with marble tiles. Especially after cutting the marble tiles as they may lose their shine.
That's it! Your matte porcelain tiles should be shining after the process. Make sure to clean the tiles to maintain the shine. You can clean them in the way one can clean their ceramic tiles. Because both tile types have the same cleaning process.
FAQs
Question: Can I use baking soda to clean stains?
Answer: Yes, baking soda may be used to remove stains from tile floors. Vinegar and ammonia water solutions also can be used alternatively.
Question: What may cause porcelain tile to deteriorate?
Answer: The use of corrosive substances on a regular basis damages the tile's surface. Sometimes not cleaning your tiles for a long time can also cause this problem.
Question: What should I use on porcelain tiles for regular cleaning?
Answer: For regular cleaning, warm water, and a mop. If you want, you can add liquid dishwashing soap to the water.
Conclusion
This is all we had on how to make matte porcelain tiles shiny. We hope you follow through with the steps and find this post helpful.
If you're confused as to which product to use, consult your tile manufacturer. This will prevent any unforeseen damage and give the best results.
Hopefully, now your matte porcelain tiles are as shiny as new!
Best wishes!